The isle of Arran – Scotland in miniature
themarketingconcept [e-book] discusses the total product and how products always have 5 product components and often have 6 product components [goods, services, ideas, experiences, people, place]. In this exemplar we employ the Isle of Arran to identify all 6 product components and highlight the importance of place, people, experience, and ideas. 

After the trip to Islay, 'the whisky isle'  we were keen to explore other Scottish islands. In conversations, two friends had, independently, suggested that we visit Arran. One of them, lent us a magazine that highlighted the island and its attractions, after reading this we decided that it was worth visiting.
This island, which is about 430 square kilometres, is often described as 'Scotland in miniature' due to its diverse range of geography. In some parts you feel as if you are in the Scottish Highlands with its rugged peaks and sheer drop waterfalls and in other parts you feel as if you are in the Scottish Lowlands with wooded glens stone bridges and shallow rocky streams.

There are several villages on the island of Arran, we stayed at a hotel in the tiny village of Kilmory which is located at the southern end of the island. The hotel was named The Lagg Hotel; it was built in 1791 and the owners mentioned that it was one of the oldest hotels on Arran. It is a typical whitewashed and slate building and is located in woods on the banks of a fast flowing stream. The hotel has nice gardens and is tastefully furnished in keeping with its heritage as a former coaching inn. It is clear that the owners Mary and Peter have put an enormous effort into the restoration and maintenance of the hotel and the grounds. Peter who kept a friendly calm demeanor in front of guest admitted that sometimes the building could make him scream; admittedly, he had just dealt with a burst water main.

Peter mentioned that one of the main challenges of the hotel was the fluctuations in demand; in summer the hotel is always full and they work 80 – 90 hours a week, however, in winter there is little demand and they find it is more economical not to open; the cost of fuel to heat the rooms and the staff would be far greater than their income. They use this time to maintain the building, have a break from the island and to recharge their batteries for the busy times. Peter explained that for most of their guests the hotel was a destination, gardens to enjoy, and some really interesting walks, which are enjoyable when the weather is nice but if people need a break during the Scottish winter then naturally they will head for the sunshine. The staff were excellent and had a nice balance of being friendly without being intrusive. Peter, praised his wife saying "she selects good people, gives good instructions, and rewards good behaviour". We stayed for 3 nights and each morning we had the full Scottish breakfast, which was just as well as Arran has some scenic and challenging walks. We ate lunch at various spots around the island but returned each evening and ate our evening meals in the bar of the hotel. Mary's menu had a good range of simple but delicious 'she described them as unpretentious' meals that showcased the local produce of Arran. One evening after a delightful meal of local produce Leslie, who worked in the bar, brought us a Monopoly Board and by the time we had finished our game I am sure the game had paid for itself many times over.  The pub had a nice relaxed feel and for most guests it was a break and a time to do very little.
One of our fellow guests was a publican from the Scottish-English border who just needed a break – on one day he and his two daughters had completed a big walk and they certainly let the whole bar know about their achievement in typical Scottish fashion everyone joined in the discussion and contributed. Another couple we met over our hearty Sottish breakfast were Carol and Vince. Carol explained that they were 'collecting Scottish Islands' and intended to visit all the inhabitable islands in Scotland. On this particular trip they had their car and were island hopping on the Caladonian MacBrayne, [CalMac] ferries. Carol mentioned that their son was a 'Munro bagger'. I had never heard this expression and she explained that this meant climbing all the Scottish peaks over 3, 000 feet; that it was a popular Scottish summer pastime. The 'Munro's' as they are referred to, were named after Hugh Munro a founding member of the Scottish Mountaineering  Club who compiled the list. There are 282 Munro's in Scotland.

One walk from the Lagg Hotel takes you to a lovely beach with the distinctive Ailsa Craig rock in the distance. On the way to the beach you pass a burial cairn which dates back some 4,000 years. This was an unexpected find and we soon discovered from a local that there are quite a few 'sacred' sites on Arran and that Arran has been settled continuously settled since Neolithic times.
Scotland is an ancient land and a local guide stated that whilst the sites on Arran are ancient; if I am interested, I should visit Orkney as they are amongst the most significant Neolithic sites in the world.
At Machrie Moor on the west coast of Arran are a circle of Granite stone boulders, they are strategically located to align with the summer solstice. According to the information sign, this land was farmed for over 4,000 years, however, a climate change around 2700 years ago turned the fertile land into peaty moors unsuitable for cultivation. Our local guide stated that the people at Machrie Moor were initially hunters and gatherers, however, later evolved and built round houses of wood and stone, cultivated the land for wheat, barley, and vegetables, kept animals, produced bread and cheese, and made their own tools, pots, and clothing.
There was one thing that disturbed me. There was a bus load of Swiss tourists who took pleasure in jumping on the stones, now you can understand the children not showing respect for an ancient site but the behaviour of the adults was appalling.  I considered what would happen to them if the behaved like that at an ancient and sacred site in Australia. Only then did it dawn on me that the calls for respect for sacred sites by indigenous Australian has influenced Australian culture in a very positive way.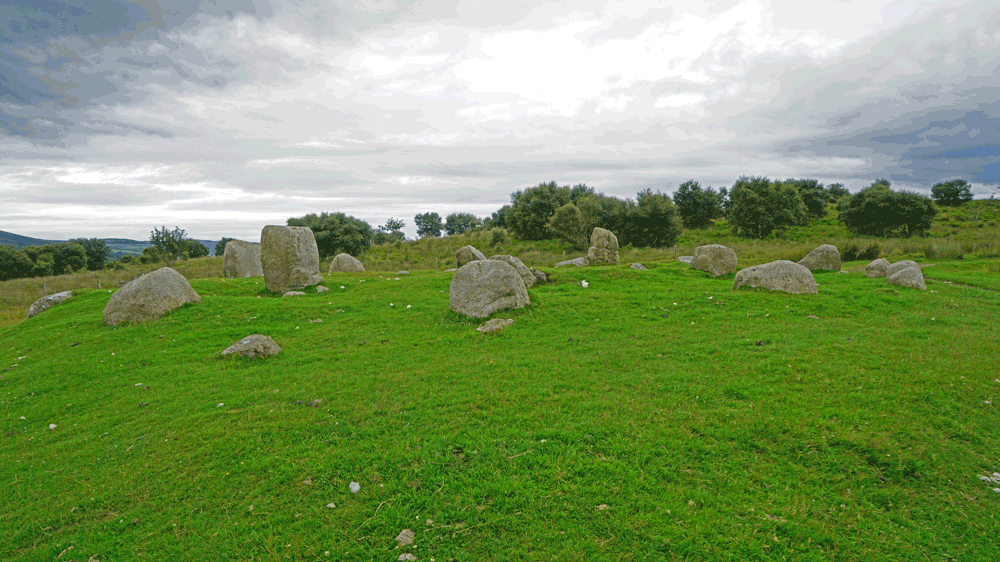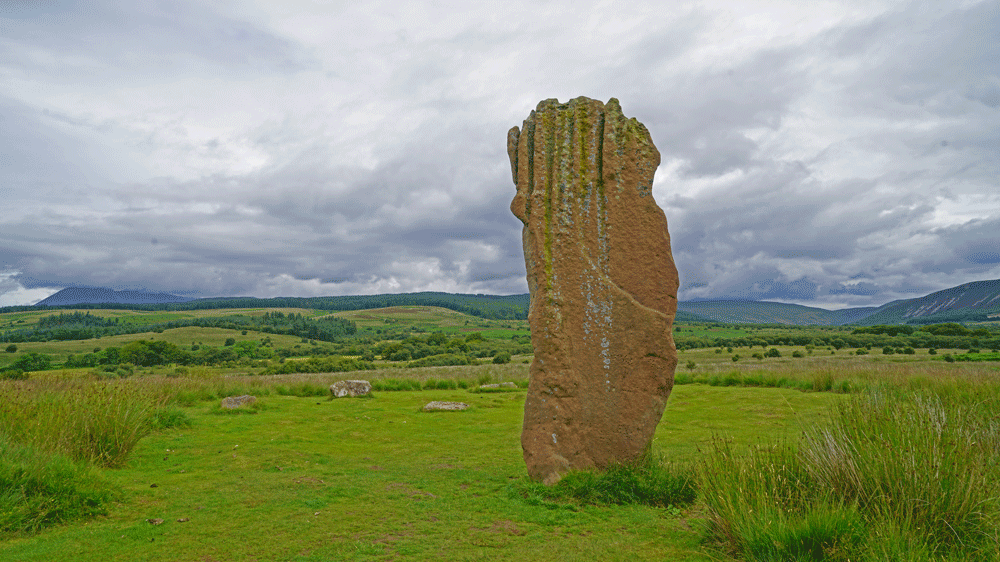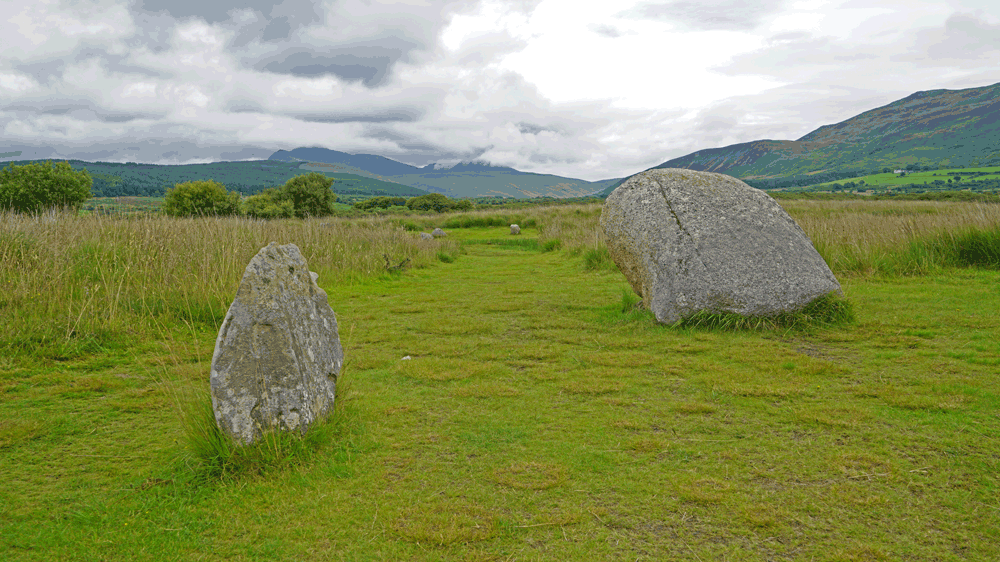 We were invited to lunch with friends at Esca's Restaurant in Glasgow. It was a lovely meal. We were discussing the beauty of Scotland, they mentioned how they have a favourite place they like to visit on the west coast. They talked about the isolation and the rugged beauty of Scotland. One of our friends mentioned that he has  collected 32 Munro's  – pretty impressive. He explained that not all hills qualify as Munro's – smaller hills are given the classifications  of Corbetts and smaller still Grahams. Nevertheless, it is interesting that natural places can be categorized and collected.
The more I travel and talk with people on this trip the more it becomes apparent that place is a component of Scottish leisure time. Perhaps, it is the long winter that motivates people to make the most of opportunities. Even on the island of Arran, which is hardly a shopper's paradise, there are shops specializing in outdoor adventure clothing and equipment. The stores are adorned with point of purchase posters of great landscapes, a group of people enjoying a magnificent view and the inference of a healthy lifestyle, and wearing outdoor adventure clothing and equipment. This from a marketing academic's perspective confirms that the major product components can be an amalgam of place, ideas, people, and experiences – of course the shop is selling goods and providing services, the six product components are presented within the point of purchase posters.
Tasks
Consider how seasonal conditions impact this business – note how they shut down for winter – would the owners be mindful of the 'break-even point'.
How important would referrals through word of mouth and social media be to maximise occupancy in the spring, summer, and autumn seasons.
Given that the Lagg Hotel has a 4.5/5 rating on Tripadvisor how would this influence the search and selection of accommodation?