milan
In this virtual field trip we explore the Italian city of Milan, take in the sights, take a hop-on-hop-off bus, discover a very enjoyable restraurant, and receive some great advice from the hotel staff.
We stayed, about 200 metres from the train station, at the Starhotel Echo in Milan for three nights – we booked through an online service provider.
The hotel rated highly on the usual booking sites and on reflection it was a very good choice, it was clean, the staff were very helpful and friendly, the breakfast was well above average and the hotel had a really nice ambiance, particularly the lobby and restaurant. The hotel was close to the main train station and a 10 euro taxi ride to the city centre. Normally, I avoid the train stations as they tend to be a little seedy, we would have preferred to be closer to the city centre, to be able to walk around for an hour or so and return to the hotel for riposa, and then head out and wander around for a evening passeggiata, however, on this occasion we chose a hotel that was convenient to the airport connections and our car hire pick-up depot.


I should mention that the Milan train station is really worth visiting; it is one of Mussolini's finest legacies. It is a grand and very impressive building, I was informed that it is a blend of architectural styles part Liberty and part Art Deco. It has an impressive and lavish marble arrivals hall, Mussolini must have known how to spend money because the entire building is adorned with sculptures and murals.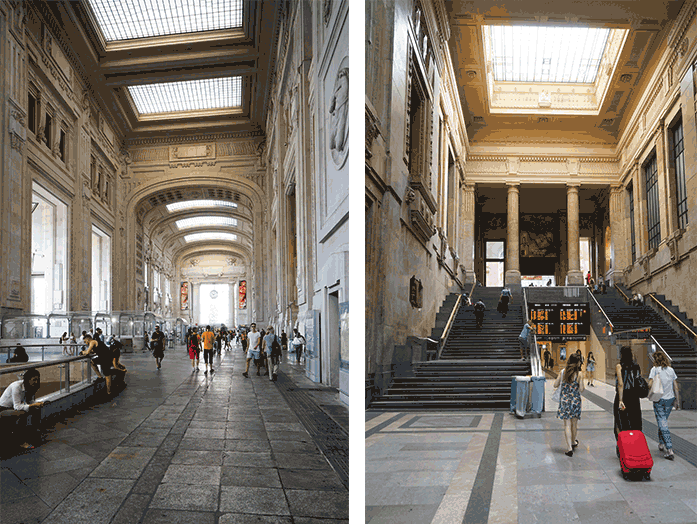 The Milan Train Station is a magnificent building from the Mussolini era. Sadly, very few public buildings are now built to this architectural standard.
We arrived at our hotel mid-afternoon, Milan was hot, and after all the budget airline annoyances we decided on a rest before heading out for our evening meal. As a rule we like to avoid restaurants in the tourist sections near train stations; there were many restaurants within 100 metres of our hotel, and in total we walked past about 20 restaurants. Over the years we have developed some rules one of them is that we avoid restaurants that are touting for business, about 4 or 5 restaurants sparked our interest, before one caught our eye Ristorante Sabatini. There was a polishe brass and glass menu display cabinet near the entrance, we explored the menu the prices were reasonable, the restaurant was busy, we scanned the environment for cleanliness, tables, presentation of the wait-staff, typical customers, food quality, we noticed that the restaurant had an Italian motor-cycle theme and there were vintage motor-cycles as props and to provide ambiance – it was worth a try.
The restaurant manager welcomed us and asked a male waiter around 45 years old to escort us to a table. Two things confirmed I was back in Italy. Firstly, wait-staff in Italian restaurants are given higher status than in any other country [that I have visited]; it is seen a profession and as they serve they have an elegance, they undertake their activities with an order that comes from years of practice and they adopt an advisory role when helping you select your meal – they pause before they answer as if it is the first time they have been asked that particular question – they have a politeness and a patience. And secondly, when you walk into a shop or a restaurant you are always greeted not just by the staff, but, also by other customers, and it is expected that you announce a general greeting – it is a part of Italian culture that I like.
Once seated, we were presented with open menus, the specials of the day were presented, and our waiter asked if would like water – sparking or still? We checked-out the meals of fellow diners, and then spoke with a couple on the next table who verified the quality of their meal – asking is easy in Italy as we had already acknowledged each other's presence. We ordered our meals, one was what the lady on the next table was enjoying, and two glasses of house wine. The meal was excellent, the service friendly and professional, and the bill was consistent with expectations. The manager, who had directed the restaurant proceedings like the conductor of an orchestra, performed the exchange and then wished us a pleasant stay in Milan. We walked home in a more relaxed state than we were just a few hours previously – Anna said – 'now that was a good find'.

exploring milan
A great example of relationship management is uncovered. A very enjoyable restaurant is experienced and along the way I comment on social media and explore the four product layers.

Following a nice but simple lunch, we headed back on to the sightseeing bus – to explore the city and surrounds from the comfort of the bus, we hopped on and off a few times.
On one occasion the bus stopped outside a beautiful fabric shop, Giacinto Asnaghi and it was so beautiful that we felt compelled to go in and have a look. According to Maria, the store was started by her father, in 1939, and other members of the family still work in the store. They supply quality fabrics to domestic and commercial customers, not just in Milan but throughout Italy and Europe. Given that we had just walked in off the street, without an appointment she was very gracious and gave us the background of the company. She stated that one of the reasons for their success is that they have excellent relationships with their suppliers – which include some of the best producers of quality cloth. Having a reliable supply of quality cloth is important as this enables them to provide quality and consistently reliable service to their customers. It was clear that maintaining quality upstream and downstream relationships was a strategic objective of this organisation and that each channel partner was dependent on the other – in themarketingconcept we outline how relationships should be synergistic, symbiotic, sustainable, and strategic and I walked away realizing that I had stumbled on a business that was founded on these four characteristics. Back on our sightseeing bus we talked about how welcoming and friendly the family and staff were, they didn't have to be, and how it was more like we had just called on some Milanese friends than cold called on an previously unknown business – imagine how the treat their customers.
In time we found our way back in our hotel and the lady on reception asked about our day, we said that we were exhausted. She suggested that tomorrow rather than walk around the city we should take a bus tour to Como, which includes a ferry ride along Lake Como to Bellagio and then the bus back to Milan. We had intended to drive to Lake Como after our time in Milan but we realised that her suggestion would save us the hassle of driving and parking; so we thanked her for her suggestion and asked her to book the tour for us.
As we were too tired to search for a new restaurant, we decided to reduce our risk and we returned to Ristorante – Pizzeria Sabatini. The manager and the waiter recognised us from the previous night, they were also friendlier and appreciated that we had come back, the waiter made a few suggestions which we agreed to and once again we had a very enjoyable meal. We walked [this time more of a shuffle] home content after a very enjoyable meal and a great experience. During the course of our night we discovered that the ristorante has been in the same family since 1946 and is now run by the grandchildren of the founder.
When we arrived back at our hotel we were keen to see what social media sites say about Ristorante – Pizzeria Sabatini. Most diners who reviewed the restaurant [77%] expressed that the expectations of were exceeded, many felt that it was what they expected [8%], and there were some [15%] who were less than satisfied.  I would cautiously suggest that the reviews do not accurately reflect the actual levels of customer satisfaction. Nevertheless, I would suggest that the reviews and the qualitative comments confirm that businesses, such as this, have the constant challenge of managing the variable expectations of consumers. There are many factors that can influence a customer's expectations vary – such as the consumer's age and their experience, discretionary income, and the cost of similar products in a tourist's natal country. As experienced travellers, Anna and I recognised before we entered that this is good dining not fine dining – and when you look at the menu and the prices you should know that fine dining cannot be achieved at those prices [price is one of the quality cues], however, not everyone has the same experience and this is reflected in the comments.
Generally marketing practitioners recognise that a product has four product layers – the core product layer, the expected product layer, the augmented product layer and the potential product layer. It is worthwhile to look at the product layers of the Ristorante-Pizzeria Sabatini.
The core product is food and a place to eat and they have to be to an acceptable standard, to meet what could be defined as an the industry minimal standard. An organisation would quickly go out of business if the core product layer was unacceptable. There is no question that the core product layer of this organisation is above the industry standard. However, a few reviewers opined that the food was substandard, now that could be true for isolated incidents, perhaps bad choices – human error on either party, however, certainly not on the days we were there –  as a marketing academic I instinctively observe people in restaurants. Nevertheless, the comments highlight the importance of consistent quality and achieving customer satisfaction as it is unlikely that people will return if their first experience is below their expectations.
The next product layer is the expected product layer. We also know that the expected product also varies according to the price – as price increases so do our expectations. It is clear from the reviewer's comments that some found that the service charge [2.50 euro] per person for water and bread exorbitant. This charge, which is standard practice in Italy may not be standard practice in other countries. After a little scrutiny we can determine that overseas visitor comments indicate that it may be 'unexpected' for first time visitors to Italy. Therefore, closer monitoring of social media comments and being more culturally aware could reduce negative social media comments in the future for Italian restaurants that attract tourists.
The augmented product layer is comprised of all the 'extras' that the organisation does to provide a unique product offering; one that is distinct, distinguishable, and discernable. The augmented product layer, in this case, comprises, the motorcycle props, the wood-fired oven, the interactions of the wait-staff, the 'theatrical production' and the manager directing the proceedings and generally adding to the overall customer experience.
The potential product layer is the future product that the organisation will deliver. It is never experienced by the customer as once it has been introduced it forms part of the core, expected, augmented product layers. It is worth noting that in the case of a restaurant the staff may regularly reflect on performance and modify their potential product layer on numerous occassions. This contrast to more durable goods where a new product may require many years of designing and developing.
There is a recent trend that is happening in restaurants and it is worth discussing. Diners often comment on social about the 'rudeness' of waitstaff – when waitstaff refuse to take photographs of diners.
On many occasions and in different restaurants, wait-staff were requested to drop what they are doing to take photographs of customers; this service should not be viewed, by the organisation or the customer, as part of the 'expected product' but rather as part of the 'augmented product' – an extra service. Sometimes, the requests occurred when meals were being delivered to other tables and the wait-staff were hijacked from the task in hand – much to the annoyance to the diners being served. The photo requesters were often unaware [perhaps they lacked the appropriate filters] that they are being self-centred and would often look at the photos and request – 'could you just take one more … pleeeeeease'.
Herein lies a growing problem, the wait-staff's priority is getting meals to the tables quickly and allowing the guests to commence dining at the same time – not taking photographs. Clearly, managers need to help wait-staff to manage this phenomenon.  Perhaps, organisations can set aside an area specifically for guests to take photographs, with appropriate signage; if the selfie was strategically managed it may amplify a restaurant's presence on social media.