the London stopover
The literature suggests that a 'total product' is the sum of everything a consumer gives and gets in an exchange. This activity is designed to explore whether consumers combine multiple total products into one – 'aggregate product'. 
Please read the scenario and then complete the tasks and the survey. 
Scenario: You arrive in London at 11:00pm Tuesday – you are on your way to a work conference in New York. The flight was Perth-London and you have decided to break the journey with a 36 hours stopover in London. You have never been to London and you see this as an opportunity too good to miss. You will pay for all costs associated with the London stopover and you have taken annual leave.
You catch the tube from Heathrow Airport and negotiate you way to Waterloo Station – thanks to the underground map. Then walk 500 metres to the Premier Inn [County Hall], it was pre-paid. Within minutes you fall into the type of sleep that happens after a 20 hour economy flight from Australia.
Next morning, refreshed and anxious to make the most of your remaining 30 hours, you have a 'big' Premier Inn breakfast and look out the breakfast room window and by surprise see the London Eye – WOW. Half an hour later you are on a London Eye gondola slowly rotating and taking in the best views in London – the smart phone is on video mode.
After leaving the London Eye you find yourself walking along the embankment and stop to watch some of the buskers. One was particularly entertaining and you have a good laugh and feel compelled to contribute one pound to the busker's collection bowl. You then spot a hop-on-hop-off bus and take a tour of the city. On the circuit you pass a number of famous landmarks and stop at Covent Gardens – for a walk and an ice cream – you find yourself walking to Piccadilly Circus and as everything is new you do a little 'people watching' before hopping back on the bus. On two more occasions you hop-off and buy a few souvenirs before heading back to the Premier Inn. As you gaze out the bus window you take in many of the historic landmarks of London. That evening you catch up with a cousin, she has been living in London for two years, she brings along a couple of friends and after a pub meal you embark on a pub crawl. At 1:00 am you are back in your room and fast asleep.
The next morning after breakfast you check out and walk across Westminster Bridge to catch the Tube back to Heathrow Airport
As you wait to board you purchase a coffee and a cake and scroll though your smart phone –  you are amazed at just how much to packed into 36 hours.
Task:
Identify the number of total products [exchanges] in the above narrative.
Do you believe that post-purchase [the 3rd time zone of the buyer decision process] you would bundle these exchanges into one 'aggregate' London Product?
Would you evaluate the satisfaction of your London stopover as individual exchanges but also as an aggregate of all exchanges?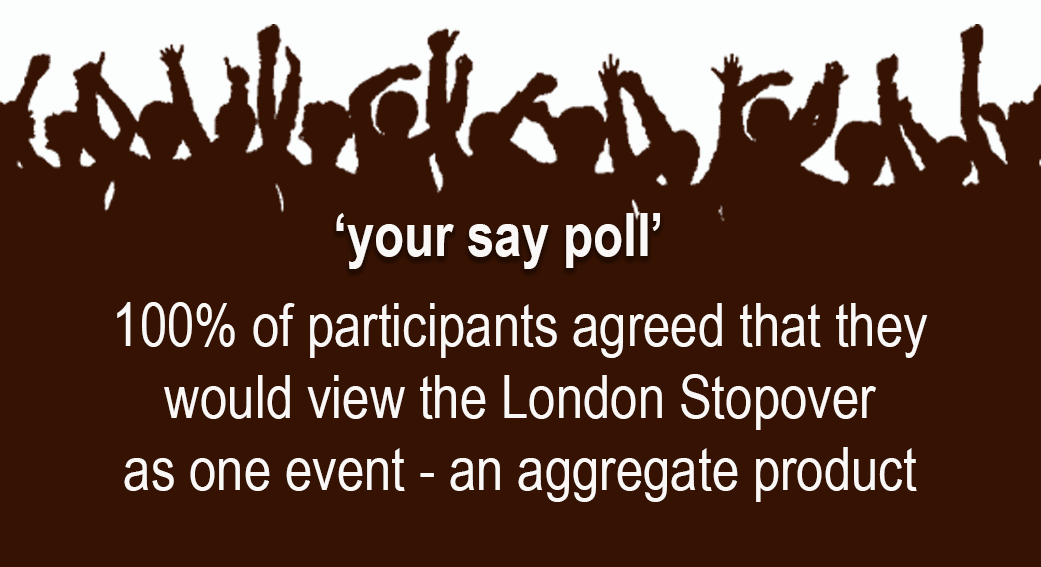 The London stopover
In this survey 100% of participants after reading the scenario stated that on reflection they would view a stopover in London as one event and an aggregate of multiple exchanges.