Two absolutely free marketing e-books
This website is dedicated to a better understanding of marketing as a business discipline.
You will discover how an understanding of a marketing philosophy and marketing theory can be applied to achieve the marketing objectives of the organisation and achieve a sustainable competitive advantage. 
This website distributes two absolutely free marketing e-books and complementary content, activities, and exemplars – absolutely free means no subscriptions, no credit card requests, no names, no annoying emails, and no other nonsense.
In many respects, the e-books work in partnership, one is a comprehensive academic treatise and an ideal academic reference – the other is a concise and detailed summation of the application of the philosophy and theory of marketing within a contemporary organisation.
The Marketing Concept: an academic perspective
ideal for marketing lecturers and business students
I have used this e-book extensively in my teaching of undergraduate and postgraduate students. I find that the structure of the e-book allows students to easily grasp marketing theory and the application of marketing theory … in particular, I find that the circle of satisfaction explains and advances marketing – brilliantly.
I still can't believe it is free
The Marketing Concept: an academic perspective presents the philosophy, theory, and application of marketing through a distillation and synthesises of the best classic and contemporary academic marketing literature. A treatise of over 800 of the best journal articles, this e-book is an excellent reference for marketing academics, business students, and businesspeople. In a world of questionable social media opinions, this e-book provides confidence through an academic rigor that is extremely rare. Now in its 10thedition, uptake of the Marketing Concept: an academic perspective has been beyond expectations. As an academic treatise, it takes time and effort to read, however, the rewards of the reading a synthesis of the finest marketing research will be worth the effort.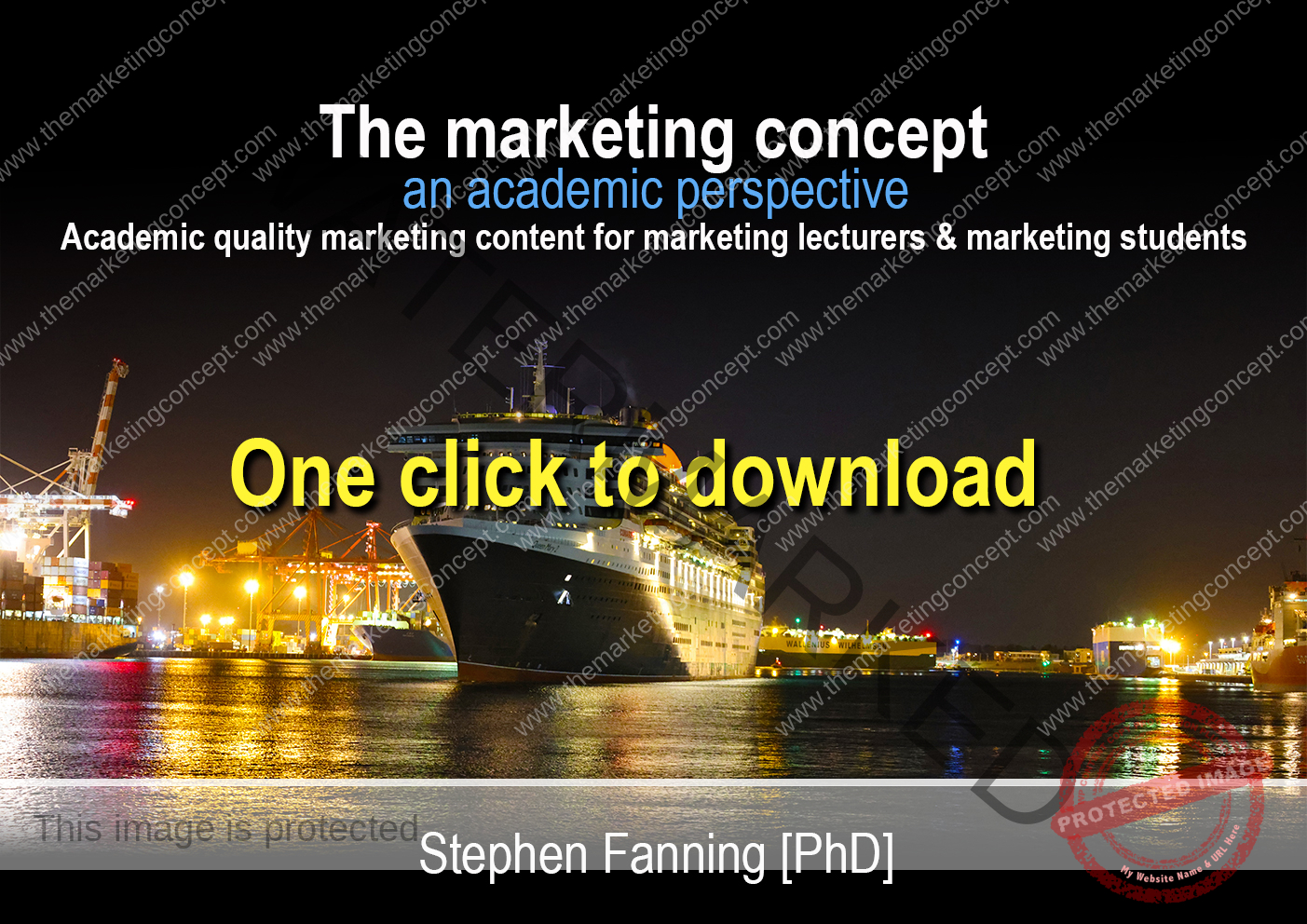 The Marketing Concept: a business perspective
ideal for managers and owners of small-medium businesses + an excellent overview for MBA students
The Marketing Concept: a business perspective is a CONCISE, yet detailed, discussion on what is marketing and how it can be applied by business. The e-book explores how through best satisfying customers – organisations can best satisfy their own needs. The fundamentals of marketing are explained in an easy-to-read format. Most importantly, the steps to achieving a sustainable competitive advantage through a better understanding of the business-marketing planning process are outlined and explained.
The Marketing Concept: a business perspective is an ideal introduction to marketing. As one reader stated – 'I would recommend this to time poor businesspeople'. 
COMPANION MATERIAL
The companion material will enhance learning when employed in conjunction with The Marketing Concept [e-books]

Marketing content
[click image to access]
This page provides the links to the PowerPoints that present the sections, modules, and chapters of the e-book. The purpose of this is to provide lecturers with the content to embed within the marketing classes.

Activities
[click image to access]
This page contains a number of learning activities designed to improve skills, relate content to context, identify exceptions, and accelerate your knowledge of marketing concepts and theories.